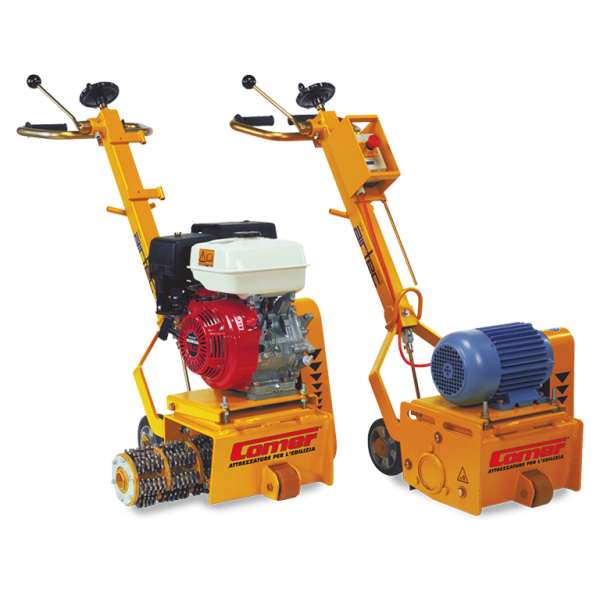 SPARVIERO 250
Scarifying machine for floors
Complete range of machines for scarifying all surfaces. Suitable for milling, roughening, stripping soils and floors.
Medium-sized, but very handy, they allow to perform scarifications on all surfaces.
Millimetre working depth adjustment from 1 to 8 mm.
Working width of the drum 250 mm.
Quick release lever of the drum.
Adjustable brake for motion control.
Prepared as standard for dust extraction casings.
Dimensions: 1180x480x1125 mm.
Technical specifications
SP 250 PETROL
Engine: Honda
Power w/hp: 8 hp
Working width: 250 mm
Weight: 134 kg
Feed: manual
SP 250 THREE-PHASES
Engine: three-phases
Voltage: 400 V
Power w/hp: 4 KW
Working width: 250 mm
Weight: 129 kg
Feed: manual
Standard Equipment
Protection carter
Dust extraction housing
Drum and wheel kit W6
Slowdown
Depth regulator
Want to know more?
For any request related to COMER products fill out the form, you will be contacted as soon as possible.
Thank you! We received your message, we will reply as soon as possible.
Sorry, sending your message failed. Please try again later.