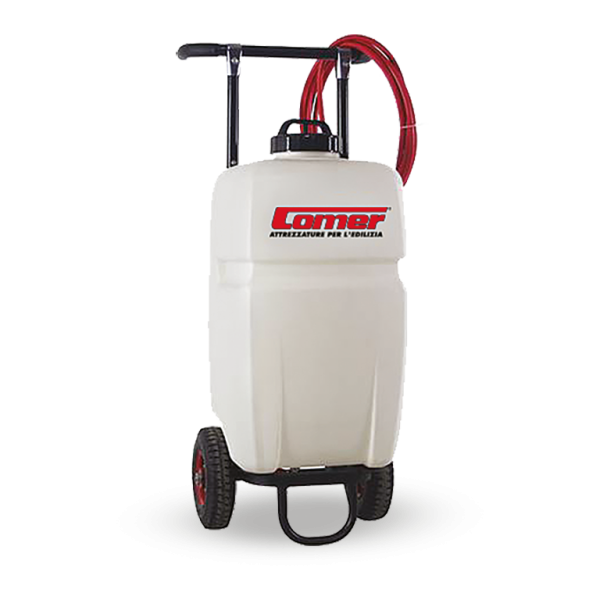 TANK 3
Water reservoir
Tank 3 is a water reserve tank equipped with a 12 v pump that allows to develop a liquid outlet pressure of 4.8 bar.
Thanks to its variable flow rate and the automatic stop of the water at the moment of closing the Tank 3 output, it allows a working autonomy of about 30 minutes.
The special built-in 12 V battery allows it to be used for about 50 hours without being recharged.
Its small size and its ergonomic frame combined with 2 large side wheels make Tank 3 an accessory easily transportable in all situations on construction sites and agriculture.
Tank 3 makes up for the lack of water in the construction site or the loss of time for the search of fittings and allows you to feed numerous machines such as disc tronatrici, chain saws, core drills and any other equipment that needs water.
With regulator of the quantity of water in function to the applications and indicator battery level.
Technical specifications
Capacity: 35 lt
Batteriy: 12V - 17A
Battery life: 50 hours
Water life: 50 minutes
Dimensions: 85x41x39 cm
Weight: 17 kg
Standard Equipment
Want to know more?
For any request related to COMER products fill out the form, you will be contacted as soon as possible.
Thank you! We received your message, we will reply as soon as possible.
Sorry, sending your message failed. Please try again later.