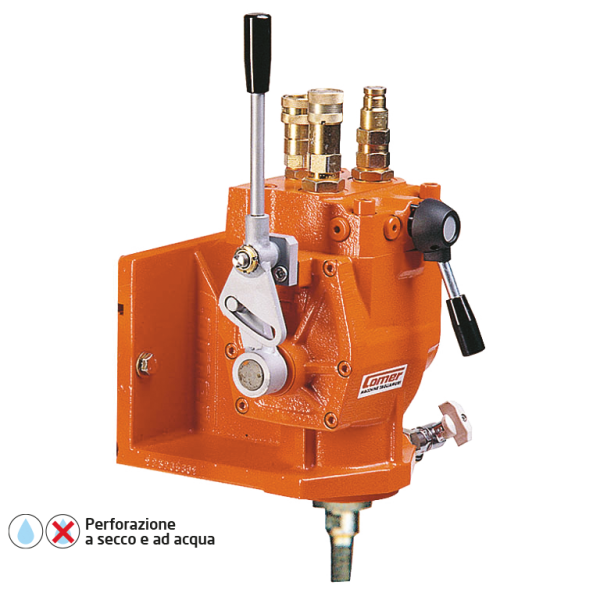 4.0 kW
Hydraulic motor
Hydraulic motor suitable for drilling up to 500 mm. Its variable flow characteristic makes it effective in all core drilling situations.
The 4.0 KW hydraulic motor combined with the particularity of variable displacement make this core drilling motor very useful in all extreme drilling situations on any material such as stone, cement, mixed masonry. Ideal for applications up to a diameter of 500 mm, the hydraulic motor stands out for its high power in all situations. The machine can be connected to a COMER hydraulic control unit or to any hydraulic source that develops at least 30 lt/min and 150 bar of pressure. A flow limiting valve may be used for values above 250 bar. The machine applied to the Compact 1 support and to the scaffolding fixing kit is indispensable for continuous drilling work. The hydraulic motor combined with the COMER range of core drilling machines is the perfect match for all construction companies and professionals of cutting and drilling who want to combine speed of intervention with very demanding machining. Machine with integrated drainage system that in case of crown locking allows the machine to discharge the excessive pressure inside the motor, safeguarding the operation of the same.
Technical specifications
Engine: 4000W
Speed: Variable from 530 to 1000 g/1' according to the needs
Ideal range: 30 lt min
Ideal pressure: 230-250 bar
Bit connection: 1'1/4
Maximum diameter of perforation: 80 - 500 mm
Dry drilling/water: water
Weight: 20 kg
Standard Equipment
• connection 1" 1/4
• service key set
• water connection tap
• anti-lock crown washer
• roll holder plate
• hydraulic fittings
Want to know more?
For any request related to COMER products fill out the form, you will be contacted as soon as possible.
Thank you! We received your message, we will reply as soon as possible.
Sorry, sending your message failed. Please try again later.