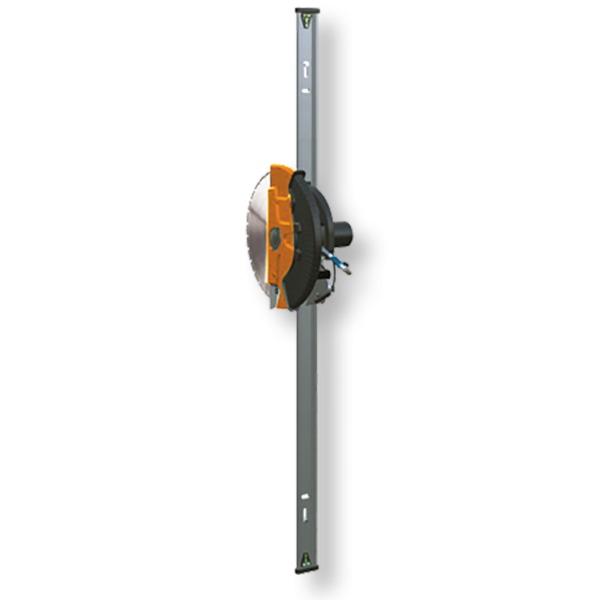 EAZYSAW
Electric power cutter with rail
Ideal for fast and precise applications on any material. Particularly recommended for indoor use.

EAZYSAW can cut up to 21 cm in concrete and masonry.

The saw is supplied with a patented fastening system that adapts to the track carriage. By rotating the T-handle, the clamping is secure and prevents the disc from exiting from the cut. The fixing machine is extremely hard and slides the disc in the cut without friction.

With this system the hourly cutting output will be optimal. The disc cover is made of aluminum and has an ergonomic rubber handle. The "spray control" system prevents the cooling water from coming out of the cut in any position. Additional handles can also be mounted on both sides of the crankcase for easier use when cutting horizontally.

The water supply is given to the saw by means of the hollow of the shaft in the gear box. The disc segments are therefore efficiently cooled with minimal water input. Water cooling can be adjusted in a convenient position with a valve.

Indirectly water also reduces the temperature of the gearbox, this has a positive effect on the life of the engine. The special shape of the fastening, means that the miter saw does not "get out" from the cut, this increases the safety of the operator.

If the saw remains stuck, the special clutch inside the motor protects the gearbox and the operator.

The machine is supplied with safety circuit breaker (PRCD) for use with water.

To avoid overload situations, the thermal relay is integrated into the motor box.
Technical specifications
Engine type: single-phase double insulation

Voltage: 230 V - 50 Hz
Power: 2200 w/3.1 hp
Speed: 2700 r.p.m.
Max cutting depth: 110 mm (with blade 350) - 165 mm (with blade 450) - 210 mm (with blade 540)
Weight: 14,6 kg engine - 6,6 kg rail from 1,3 mt - 9,9 kg rail from 2,3 mt
Standard Equipment
• Machine complete with disc cover
• Set keys service and use and maintenance booklets
Want to know more?
For any request related to COMER products fill out the form, you will be contacted as soon as possible.
Thank you! We received your message, we will reply as soon as possible.
Sorry, sending your message failed. Please try again later.